Pest Control Service In Delhi
Welcome to Rajasthan Pest, your trusted partner for comprehensive pest control solutions in Delhi. We understand the importance of a pest-free environment, whether it's your home or business. With our years of experience and a team of skilled professionals, we have become a leading name in Pest Control Services in Delhi. We cater to various pest control needs, including termite pest control Delhi, for the entire Delhi region, including South Delhi. Let's explore how we can help you maintain a pest-free space.
Rajasthan Pest takes pride in offering top-notch pest control services throughout Delhi. Our experts are well-versed in dealing with various pests that can plague your property. Whether you're facing a rodent infestation, a bed bug problem, or any other pest-related issue, we have the experience and knowledge to handle it effectively.
We employ eco-friendly and safe pest control techniques to ensure the well-being of your family, pets, and the environment.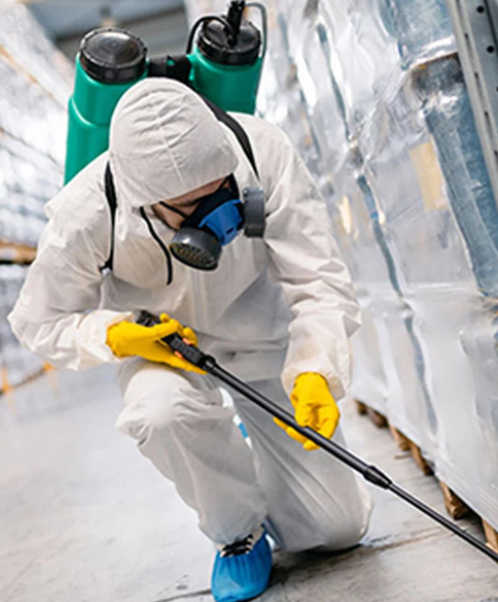 Expert Delhi Pest Control Team
Rajasthan Pest is a name you can trust for pest control in Delhi. We serve residential and commercial properties across the city, providing tailored solutions to fit your specific needs. Delhi's diverse environment offers a breeding ground for various pests, and we understand the local pest issues inside out. Our team is trained to identify and address these issues efficiently.
With a commitment to quality, we have garnered a reputation for being one of the most reliable pest control companies in Delhi. Our integrated pest management approach ensures that the root causes of infestations are addressed, preventing future outbreaks. We employ a range of pest control techniques, including chemical and non-chemical methods, to suit your preferences and the nature of the infestation.
Termite infestations can be a nightmare for homeowners and business owners alike. These silent destroyers can cause severe damage to your property without you even realizing it until it's too late. Rajasthan Pest specializes in termite pest control in Delhi, offering timely and effective solutions to protect your investments.
Our termite control services are designed to prevent and treat termite infestations. We use the latest technology and industry-approved methods to detect termites and eliminate them from your premises. With our termite pest control services in Delhi, you can be confident that your property is safeguarded from the costly damage that termites can cause.
South Delhi, known for its vibrant neighborhoods and green spaces, also faces its share of pest-related challenges. Rajasthan Pest extends its services to South Delhi, catering to the unique pest control needs of this region. Our team is well-acquainted with the local pest ecosystem, which allows us to provide more targeted and effective solutions.
South Delhi residents and businesses can rely on us for swift and efficient pest control services in Delhi. Whether you're dealing with ants, roaches, termites, or any other pests, our experts will address the issue promptly and professionally. We take pride in being a part of the South Delhi community, helping to maintain a clean and pest-free environment.
Why Choose Rajasthan Pest?
Expertise and Experience: With years of experience in the field, Rajasthan Pest has honed its skills in dealing with a wide range of pests. Our team comprises trained and certified professionals who understand the behavior and habits of different pests, enabling us to develop effective pest control strategies.
Safe and Eco-Friendly Solutions: We are committed to the well-being of our clients and the environment. Our pest control methods are safe and eco-friendly, ensuring that your family, pets, and surroundings are protected from harm. We use the latest advancements in pest control technology to minimize the use of chemicals and toxins.
Customized Solutions: We understand that every pest problem is unique. That's why we offer customized solutions to address your specific needs. Whether it's a one-time treatment or a recurring pest control plan, we tailor our services to meet your requirements.
Timely Response: We know that pest problems can be urgent. That's why we offer a prompt response to your pest control inquiries. Our team will schedule a visit at a time that suits you, ensuring that your pest problem is addressed without delay.
Competitive Pricing: Rajasthan Pest believes in providing high-quality services at affordable prices. Our competitive pricing ensures that you get the best value for your money while enjoying a pest-free environment.
If you're facing a pest problem in Delhi or South Delhi, Rajasthan Pest is here to help. Our team of experts is just a call away, ready to assess your situation and provide effective pest control solutions. Don't let pests disrupt your peace of mind or harm your property. Contact Rajasthan Pest today and regain control of your living or working space.
We cover all your pest control needs, from general pest control services in Delhi to specialized termite control. We are your trusted partner for pest control in Delhi. Contact us at 9828777712 or rpcs.jpr@gmail.com to schedule an inspection or to inquire about our services. Your satisfaction is our priority, and we are dedicated to keeping Delhi pest-free, one property at a time.