Fogging Service For Mosquito in Jaipur
Mosquitoes now days are the most primary source of spreading diseases and mosquito-borne diseases can cause life threatening illness. Using mosquito repellent cannot fully eliminate them from your house to avoid harmful diseases such as dengue, malaria, food contamination infections you need a permanent solution and for that we bring to you the best pest control service that will help you live a healthy mosquito free life
Finally, we have the knowledge and understand how the dengue mosquitoes are the reason for the dreadful havoc.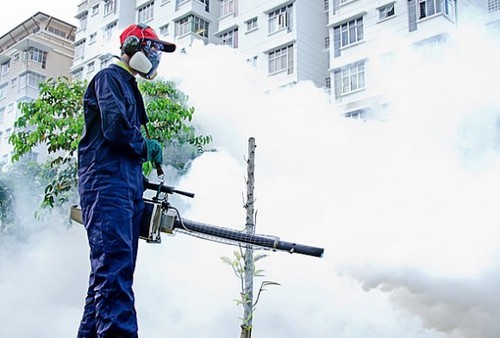 As a result, keeping this in mind, we make sure to provide Professional mosquito pest control – chemical Fogging service that ensures outstanding results. Additionally, We at Rajasthan Pest Control use chemical fogging machines or spraying methods in getting rid of mosquitoes.
First of all, we know Mosquito pest control challenges and we understand business. We use the best products in India which helps in controlling mosquitoes — therefore, let our technicians and experts protect your families and your loved one. Moreover, We at Rajasthan Pest Control uses chemical fogging machine or spraying methods in getting rid of mosquitoes. Call us today to get mosquito pest control costs and quotation details from our executive.
Control of mosquitoes
Fogging: This method of outdoor mosquito control and flies control and other such pests is temporary but is indeed necessary in many instances.
Thermal Foggers:
The best time to kill adult mosquitoes by fogging is at dusk, when they are most active and looking for food (mosquitoes feed on human or animal blood). The aerosol fog primarily targets flying mosquitoes, which is why the timing of the spray is critical. A thermal fogger (as opposed to a cold fogger) produces a thick pesticide fog or smoke by heating the fogging solution. It produces a nice insect fog that is directed to areas where it would like to kill mosquitoes, and other biting pests.
During the fogging, flying mosquitoes within the treated area are killed. Although the local mosquito population is reduced for a few days, fogging does not prevent mosquitoes from re-entering the area.
Cold Foggers:
This type of fogging treatment do not require insecticides to burn in order to create a mist or fog. This type of fog is considered cleaner and can be used indoors and outdoors to kill unwanted flying or biting pests.
Mosquitoes control measures always give better results in an integrated approach of prevention, control and source elimination. Any one of this in isolation provides only partial results.